Smart Contracts – Inteligentne kontrakty
Inteligentne Kontrakty Elektroniczne
Smart Contracts – Inteligentne kontrakty
INTELIGENTNE UMOWY ELEKTRONICZNE, KTÓRE PRZETWARZAJĄ I WYKONUJĄ CAŁĄ OBWÓD FAKTUROWANIA, ZBIERANIA I ODZYSKU PRZEZ CERTYFIKOWANE PROCESY PRAWNE
Smart Contracts to najnowocześniejsze rozwiązania dla firm i instytucji poprzez zautomatyzowane usługi wydawania kontraktów i paragonów, które umożliwiają wizualną i pełną kontrolę w czasie rzeczywistym, w sposób wizualny i pod całkowitą kontrolą, procesów rekrutacji i afiliacji, a za pomocą Smart Money – fakturowania, windykacji i Płatność i wstępne przyjazne odzyskiwanie.

Nasze usługi mogą być kompleksowe, zarządzać całym cyklem globalnie lub częściowo w zależności od potrzeb klienta. Proces Smart Money rozpoczyna się od Smart Contracts.
Smart Contracts to zautomatyzowane umowy elektroniczne, które są wdrażane zgodnie z potrzebami każdego klienta. Można je uruchamiać z formularzy internetowych, z sieci wewnętrznych lub dodatkowych, z systemów wewnętrznych, takich jak ERP, CRM itp. Pozwalają zarządzać milionami procesów rekrutacyjnych i afiliacyjnych.

Umowa jest certyfikowaną umową elektroniczną, która zawiera wszystkie informacje o danych, zmiennych i dokumentach niezbędnych do sformalizowania umowy i programowania zautomatyzowanych procesów. Za pośrednictwem wiadomości eMail lub Certyfikatu SMS wysyłany jest do potencjalnego klienta w celu podpisu online.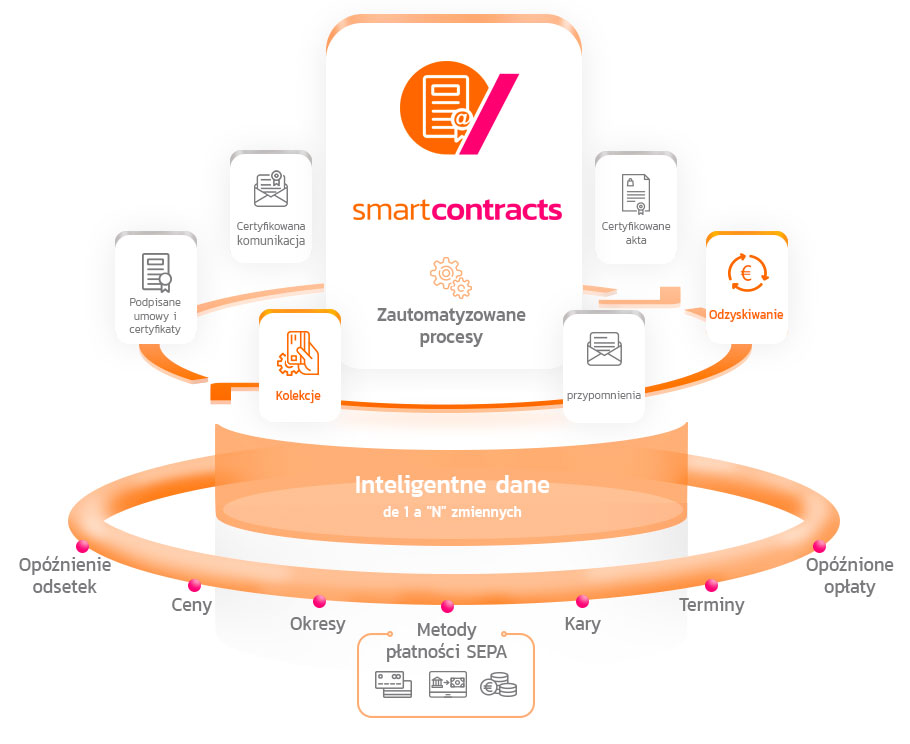 Podpis może zostać złożony w ciągu kilku minut, w bardzo wygodny sposób i przy pełnej ważności prawnej. Klient otrzyma kopię umowy podpisanej i poświadczonej przez Full Certificate w wiadomości e-mail.

Umowy te są inteligentne, ponieważ wykonują kluczowe zmienne procesów fakturowania, windykacji i odzyskiwania. Dlatego Smart Contracts działają automatycznie:

Smart Contracts jest przesyłana do

podpisu elektronicznego

System rejestruje zmienne kontraktowe

Jest podpisany elektronicznie z całkowitą pewnością prawa.

Rozpocznij proces fakturowania, gromadzenia i odzyskiwania.

Jako dodatkowa usługa jest replikowana w

sieci blockchain

Smart Money poświadcza cały proces w kluczowych momentach, zapewniając Trzeciemu Europejskiemu Funduszowi maksymalną ważność i pewność prawną procesu.
Smart Money & Full Certificate, jako trzecia strona europejskiego zaufania, gwarantują, że Twoja komunikacja i umowy będą prawomocne.

We develop advanced electronic services that provide great benefits for organizations and their customers.

Jeśli chcesz się z nami skontaktować, wyspecjalizowany konsultant pomoże Ci osobiście. Kliknij tutaj.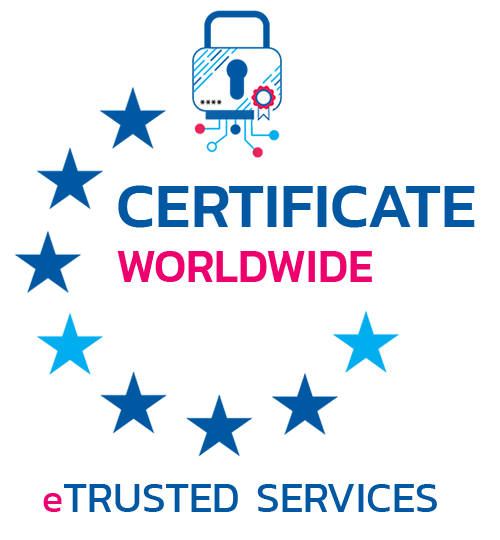 DANE KONTAKTOWE
Telefon: (0034) 91 005 26 59
Adres: C / Boix i Morer 6, poddasze.
28003 Madryt, Hiszpania