Smart Recovery
Automation of the certified recovery cycle
SmartRecovery -Certified eRecover
Automated Online Recovery Services and Certified with prejudicial record with legal validity

Smart Recovery are electronic services with high added value that allow launching cycles of Online Recovery, 100% personalized, according to the needs of each client.

In addition to its multi-channel billing capabilities within 30 – 60 days from the time the default arises, it provides as an important additional value the fact that the communications are certified by means of electronic notifications of debt generating evidence in the event of a possible claim quantity.

All the actions of the defaulter are registered by electronic certification by Smart Recovery & Full Certificate, Trusted third Party, generating a certified file of the whole process with legal validity.

There are two types of services:

WS Automation Recovery Services: For customers with the largest volume of recovery records. Implementation through needs analysis, IT programming and integration of web services – WS API REST -.

Cloud Recovery Services for companies, Associations and Institutions: Activation in the cloud and automation of recovery records through our online services.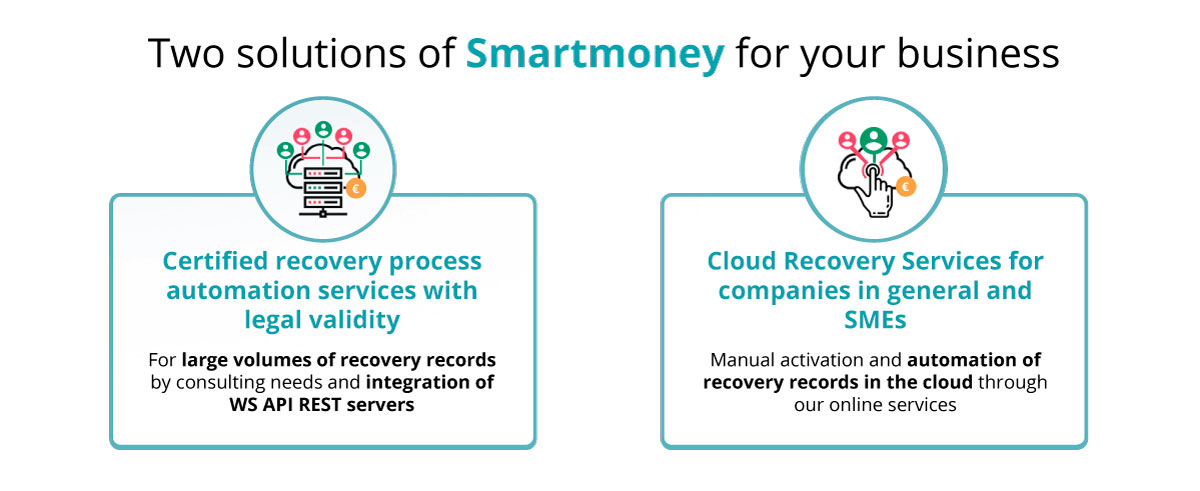 Smart Recovery brings great benefits for companies, associations, institutions, town halls, etc. Since it contributes with important savings in time, process success and low recovery costs. Without a doubt, it is ideal in massive processes with hundreds or millions of files.

But the most important thing is that it allows you to customize the entire recovery cycle. From the format of the notifications, the communication channels: "eMail Certificates, SMS Certificates, Fax Certificates, Certified Calls, etc." up to the electronic collection method.

In addition, it also allows a complete and extensive semiautomatic or manual management of the recovery cycle. Your team can perform actions such as: stop a cycle, create a direct agreement with the debtor, payments on account, certified calls, recalculation of interest and commissions, etc.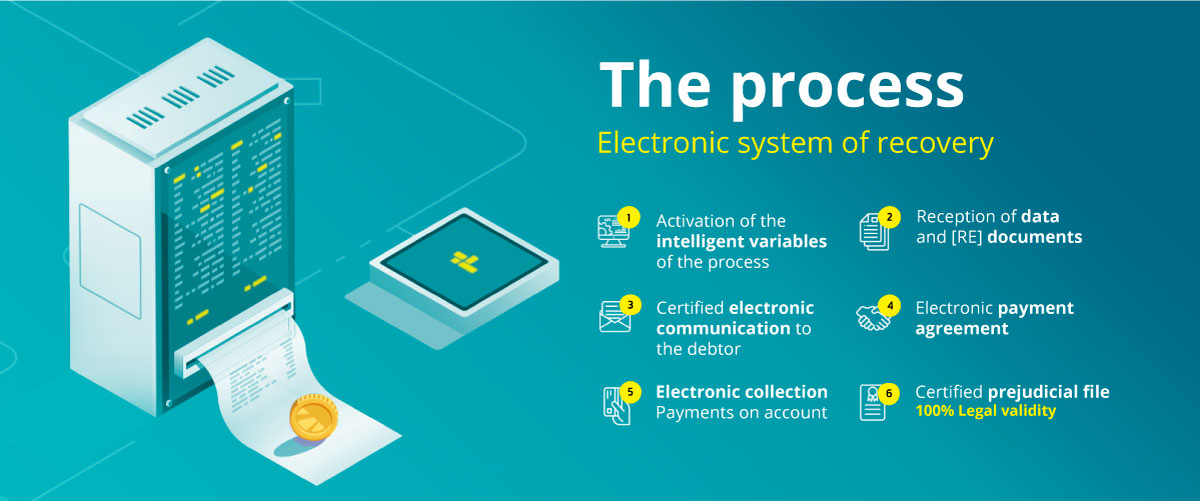 THE PROCESS

Certified Electronic Recovery System  

Activation of

intelligent variables

and process cycles
Reception of

data and documents

Start of the recovery cycle with certified electronic communications to the debtor
Electronic signature of the

Certified Payment Agreement

with possible accrual in fractions of payment over time.

Recovering the debt

with the possibility of

payments on account

depending on the negotiations with the debtor

Pre-judicial dossier Certificate

with

full legal validity

.
Smart Recovery & Smart Money are services of Full Certificate, European Trusted Third Party, guarantees that your communications and agreements will have full legal validity.

We develop advanced electronic services that provide great benefits for organizations and their customers.

If you wish to contact us, a specialized consultant will personally assist you. Please click here.

Know our solutions, contact us and we will propose the best solution for your needs.
The service consists of the following key points:
Programmatic AUTOMATION of the recovery process.
Certification of a SINGLE PREJUDICIAL RECORD of all the actions of the debtor with full legal validity.

MULTICHANNEL CERTIFIED COMMUNICATION campaigns that help manage millions of records.
CERTIFIED MULTICHANNEL COMMUNICATION
COLLECTION OF THE DEBT by means of an Agreement Certificate of online collection by credit card, SEPA and bank transfer.
Activation of SCORING PREDICTIVE SYSTEMS associated with the success of the collection. Optional service
PREDICTIVE SYSTEMS SCORING

If you want more information, contact us and a consultant will personally assist you.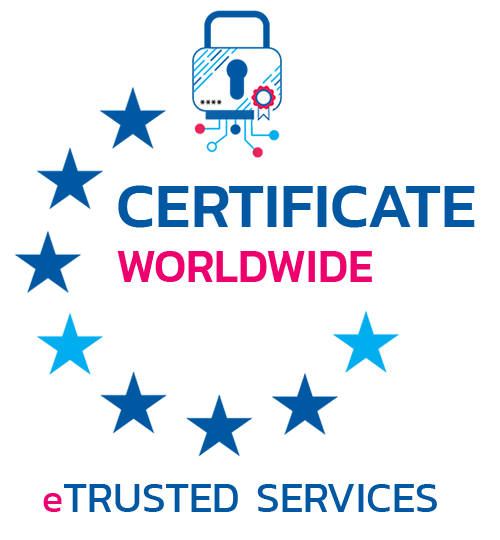 WE WILL CALL YOU
Enter your info and
we call you as soon as possible.
CONTACT INFORMATION
Phone: (0034) 91 005 26 59
Address: Boix y Morer Street, #6, 9th floor
Madrid – Spain, 28003