Smart Money
Automation of: signing contracts, Billing, Collection and Recovery
Smart Money
AUTOMATED SERVICES THROUGH INTELLIGENT CONTRACTS, COLLECTIONS & PAYMENTS AND RECOVERY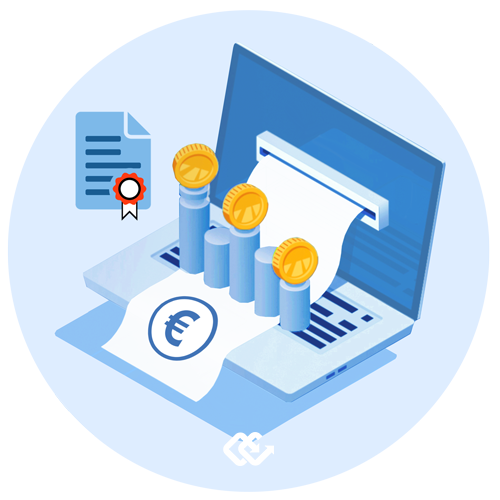 Smart Money is a last generation solution for companies, specialized offices and institutions through automated services that allow to control in real time, visually and with total control, the processes of hiring & membership, billing, collections & payments and friendly prejudicial recovery.

Our services can be integral, by managing globally throughout the cycle, or partial, according to the needs of the entire client. The Smart Money process starts with smart contracts.

Smart Contracts are automatic electronic contracts that are implemented according to the needs of every client. They can be launched from web forms, from intraNets or extraNets, from internal systems such as ERPs, CRMs, etc. They allow to manage from one to millions of hiring and membership processes.

The contract is a certified electronic contract that contains all the information of data, variables and documents necessary for the formalization of the contract and the planning of the automated processes. Through eMail or Certified SMS it is sent to the potential client for its online signature.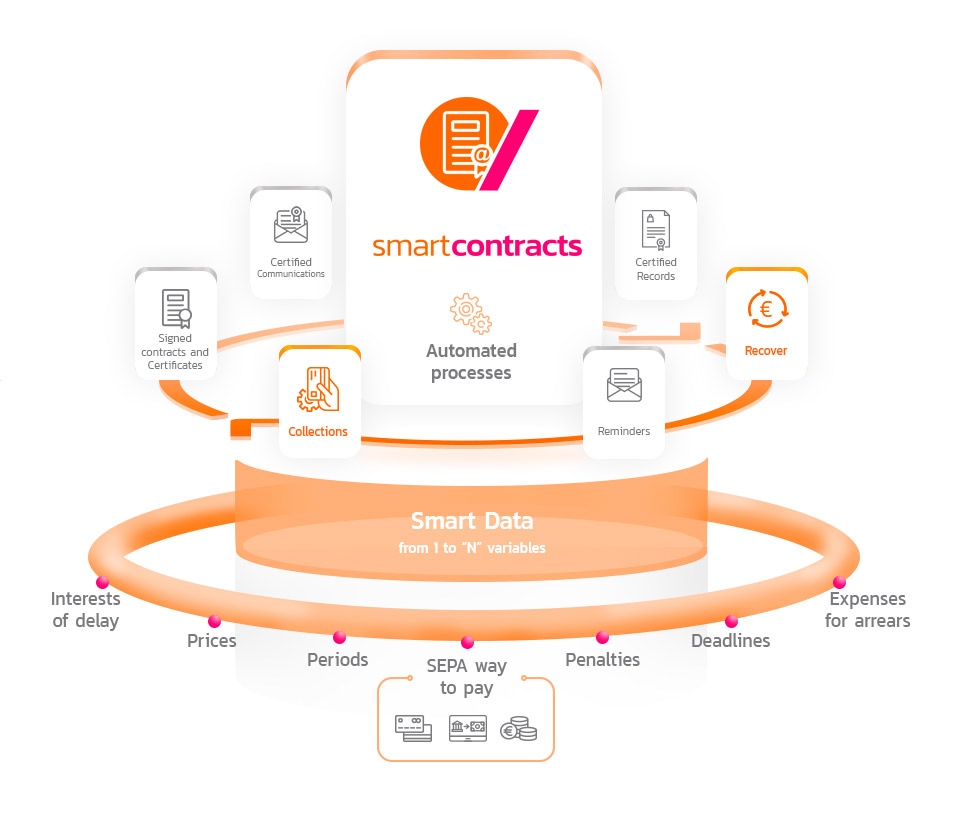 The signature can be made in a matter of a few minutes, very comfortably and with full legal validity. The client will receive a copy of the signed contract and certified by Full Certificate in his email.

These contracts are smart because they execute the key variables of the billing, collection and recovery processes. Thus, Smart Contracts operate in an automated way:

Smart Contract is sent to

electronic signature

The system registers the contract variables

It is signed electronically with full legal security.

Start the billing, collection and recovery

processes.
As an additional service, it is replicated in the

blockchain network

Smart Money certifies the entire process in its key moments, providing as Third European Trust the maximum validity and legal security to the process.

Intelligent invoice automation, Smart Billing, is a process that is executed from the key variables of the contract or through advanced integrations through web services, WS – API. It can also be done semi-automatically or manually.

The invoices are sent electronically to the end customer and are available to you in the Smart Money customer area, or in the Customer Portals. Shipments can be by any contact channel, usually by eMail Certified, and always carry a receipt control as proof of reliable delivery.

Smart Payments provides the opportunity to make smart payments and payments automatically.

Either through POS terminals, direct debits or bank transfers. At the level of the SEPA area, the system will execute mass collection processes, personalized punctual or periodic.

Smart Money is an essential tool for the control of the entire process. The client has an advanced online management console where you can see the collections and payments scheduled and executed as well as a Dash Board that groups, through advanced graphics, the behavior of your cash flow.

Smart Recovery is the ideal solution to perform quick and effective actions of online certificate Recovery friendly with final electronic file preliminary prejudicial ready in case of non-payment.

The recovery cycles are programmed according to the type of product / services. The process is the following:

Programming

of

recovery cycles

Activation of

financial variables and process costs

Activation of

billing systems on account

Electronic receipt of

data and documents receivable

Or, load them in Smart Money.

Electronic payment agreement

Possible fractionation

of the debt in recovery

installments

Electronic online collection

Deferred electronic payments

/ Payments on account
Pre-judicial certificate file with full legal validity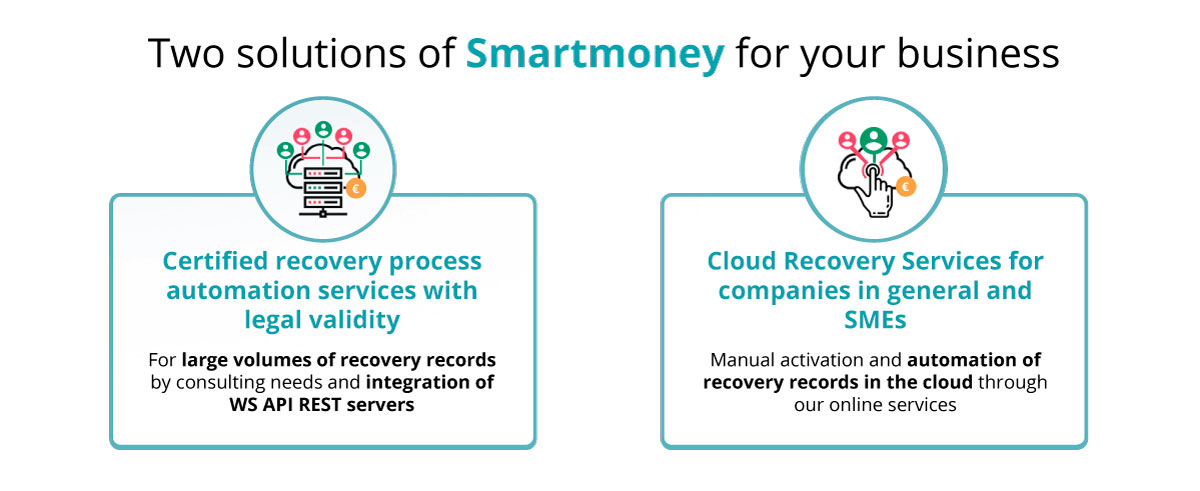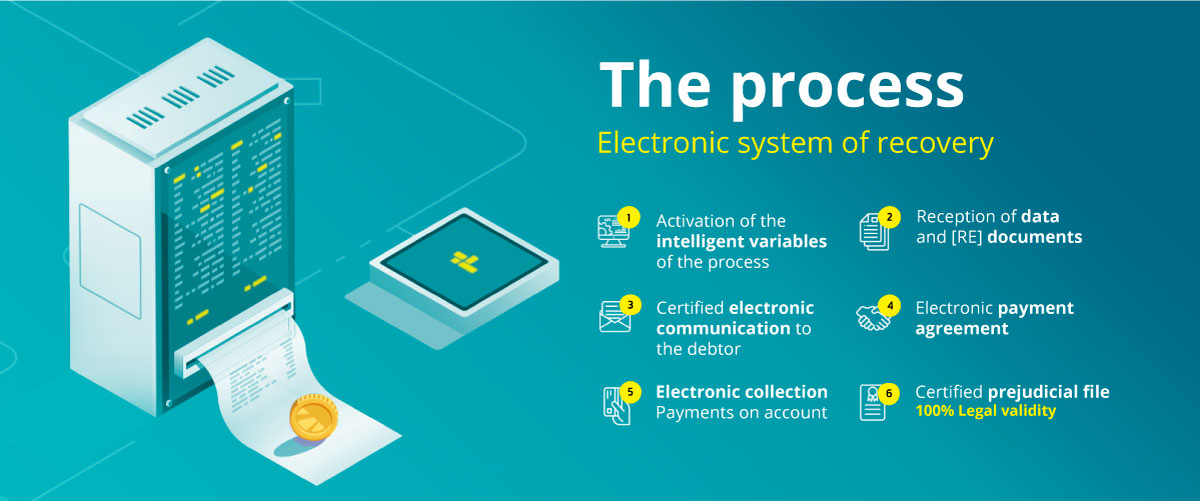 Smart Money, as a Third European Trust, guarantees that your communications and agreements will be legally valid.

We develop advanced electronic services that provide great benefits for organizations and their customers.

If you wish to contact us, a specialized consultant will personally assist you. Please click here.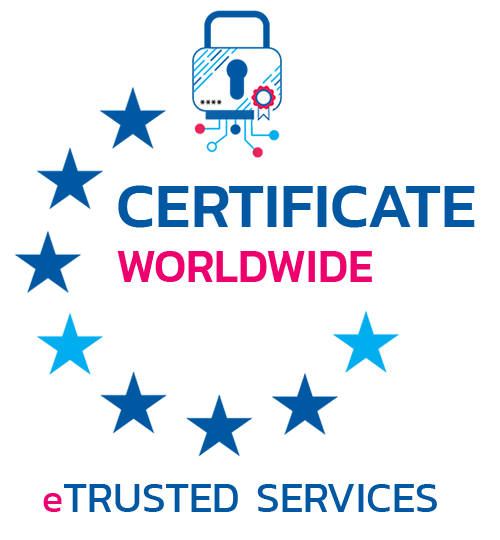 WE WILL CALL YOU
Enter your info and
we call you as soon as possible.
CONTACT INFORMATION
Phone: (0034) 91 005 26 59
Address: Boix y Morer Street, #6, 9th floor
Madrid – Spain, 28003